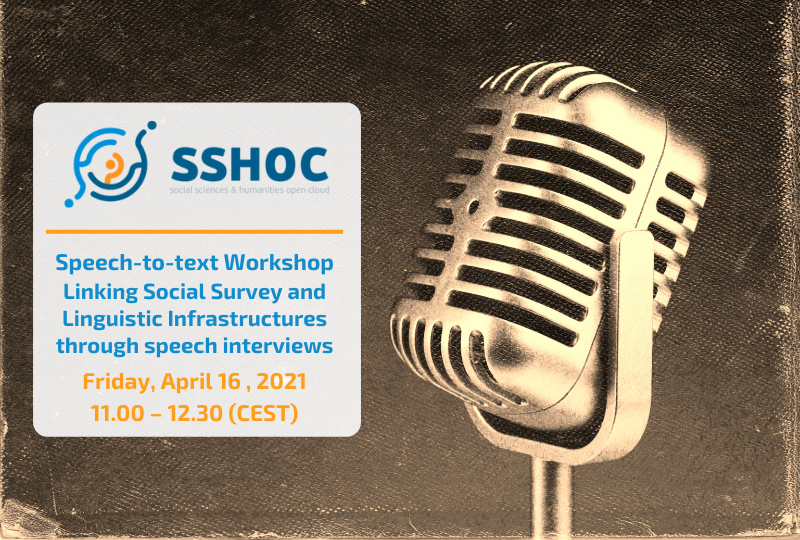 SSHOC (Social Sciences & Humanities Open Cloud) is organising a workshop on linking social survey and linguistic infrastructures through speech interviews.
Survey Infrastructures systematically interview tens of thousands of individuals across Europe each year. A large proportion of the information conveyed in an interview is lost if rhttps://sshopencloud.eu/espondent's tone of voice, linguistic fluidity, and depth of vocabulary are not considered and analysed to provide insights about cognitive function, socio-economic status or verbal reasoning skills. Making use of this lost data requires the integration of social survey and linguistic infrastructures. SSHOC project seeks to provide both a proof of concept and a framework for future research of voice recorded interviews, as will be demonstrated in this webinar.
SSHOC Speech-to-text Workshop – Linking Social Survey and Linguistic Infrastructures through speech interviews will take place on 16 April, from 11:00 to 12:30 CEST.
Welcome to participate anyone interested in voice recordings, storage of data, sensitive data, and social science methodology.
More information:
https://sshopencloud.eu/events/sshoc-speech-text-workshop-linking-social-survey-and-linguistic-infrastructures-through
Twitter:
https://twitter.com/SSHOpenCloud/status/1375135061226500101/photo/1